Viens no pakalpojumiem, ko Akurāts piedāvā pasākumu organizatoriem ir stāvgaldu noma. Mēs piedāvājam stāvgaldu piegādi, uzstādīšanu un demontāžu, sniedzot jums un jūsu pasākuma viesiem komfortu un patīkamu atmosfēru. Mūsu piedāvātie stāvgaldi ir ērti un to vienkāršais un gaumīgais izskats ļauj tos piemērot jebkuram interjeram.
Tehniskie parametri

Diametrs
0,85m
Augstums
1,13m
Krāsa
pelēka
Rāmis
tumši pelēks saliekams rāmis
Montāža:
Galdu montāžu/demontāža veic SIA Akurāts darbinieki.
Akurāts piedāvātie stāvgaldi ir 1,13 augsti apaļi galdi, kas paredzēti dzērienu, ēdienu un dažādu citu lietu atstāšanai un izvietošanai.
Stāvgaldi nav paredzēti, lai pie tiem sēdētu, bet gan dažādu lietu novietošanai un atstāšanai. Tie ir ļoti piemēroti, banketiem, viesībām un pasākumiem, kur paredzēts pasniegt dzērienus un uzkodas, bet nav paredzēts svētku mielasts un trūkst vietas parastu galdu un krēslu vai solu izvietošanai.
Mūsu stāvgaldi ir pelēkā metāla krāsā. Tie ir saliekami un to rāmis ir izgatavots no metāla. Stāvgaldu virsma ir apļa veida un tās diametrs ir 85 centimetri.
Papildus stāvgaldu nomai mēs piedāvājam arī to piegādi un uzstādīšanu. Atšķirībā no citiem mūsu piedāvātā pasākumu aprīkojuma elementiem, stāvgaldu uzstādīšanu nav iespējams veikt pašu spēkiem.
Par precīzām stāvgaldu nomas izmaksām var iepazīties, ar mūsu speciālistiem pa tālruni 26338888 vai e-pastu info@akurats.lv. Stāvgaldu nomas cena ir atkarīga no to skaita, pasākuma ilguma un cietiem faktoriem. Svarīgi stāvgaldu un cita pasākuma aprīkojuma nomai pieteikties pēc iespējas ātrāk, jo piesakoties pēdējā brīdī, var izrādīties, ka laikā, kad notiek jūsu organizētais pasākums, nav pieejams nepieciešamais stāvgaldu skaits un cits aprīkojums.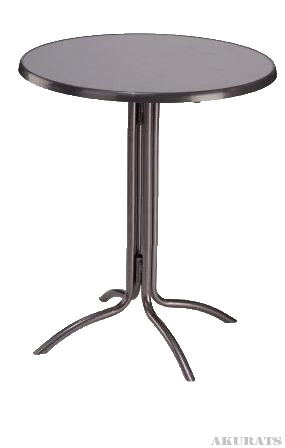 Akurāts piedāvā ne tikai stāvgaldu, bet arī telšu, nojumju, galdu, solu, lampu un cita pasākuma aprīkojuma nomu. Lai pasūtītu stāvgaldus un citus mūsu piedāvātā aprīkojuma elementus, nepieciešams aizpildīt pasūtījuma anketu mūs mājas lapā un vienas darba dienas ar jums sazināsies mūsu speciālisti, lai precizētu pasūtījuma detaļas.