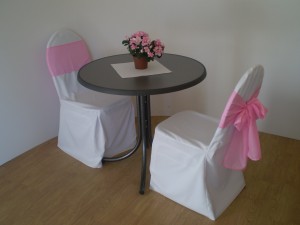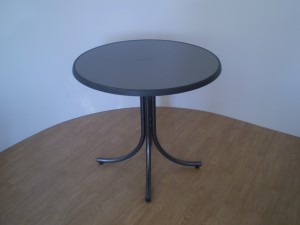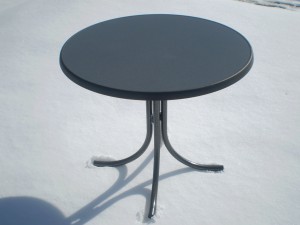 Vēlies sapulcināt savus viesus un sarīkot neaizmirstamus svētkus, bet nav pieejams nepieciešamais inventārs?
Jaunums šajā sezonā – paplašinot un atjaunojot Akurāts.lv nomas inventāru, kompānija saviem klientiem piedāvā četrvietīgus, zemos apaļos galdus, kas ir moderni un īpaši ērti lietojami.
Vizuāli jaunie galdi ir identiski kompānijas piedāvātajiem, kvalitatīvajiem stāvgaldiem. Svarīgi minēt, ka apaļajiem galdiem ir regulējamas kājas, lai tie būtu stabili un vēl ērtāk lietojami. Pie jaunā galda ērti varēs sasēsties četri cilvēki. Tāpat jāpiemin, ka pie šiem galdiem ērti sēdēt uz mūsu piedāvātajiem banketu krēsliem.
Apaļie galdi ir mūsdienīgi, jo -
to virsma ir pelēkā krāsā un pārklāta melnu pvh malu;
viena šāda galda virsmas diametrs ir 83cm, bet augstums 77cm. Pie šī galda visērtāk  sēdēt uz banketu krēsliem, ko par labām cenām piedāvā Akurāts.lv;
Kompānija šos galdus un, protams, arī citu Jums vajadzīgo aprīkojumu piegādās vajadzīgajā vietā un laikā. Protams, kompānija aicina savus klientus savlaicīgi rezervēt inventāru.
Ja iepriekš vēl neesat izmantojis Akurāts.lv pakalpojumus – Jums galdi un cits nepieciešamais inventārs tiks piegādāts un uzstādīts par īpašu iepazīšanās cenu! Netērē laiku un līdzekļus inventāra iegādei un uzglabāšanai- ar Akurāts.lv piedāvāto apaļo galdu nomu varēsi saņemt tieši konkrētajam pasākumam nepieciešamos galdus, kā arī citu inventāru.
Akurāts.lv darbinieki ir zinoši un pieredzējuši speciālisti, kuri konsultēs un palīdzēs gan izvēlēties piemērotākās preces plānotajam pasākumam, gan tās nogādās vēlamajā vietā un laikā, gan uzstādīs, kā arī demontēs inventāru pēc pasākuma beigām.
Akurāts.lv Latvijā strādā jau kopš 2005.gadā un salīdzinoši īsā laikā ir kļuvis par vadošo telšu un to aprīkojuma iznomātāju visā Latvijā. Kopš 2007.gada firma savus  nomas pakalpojumus piedāvā arī abās pārējās Baltijas valstīs.
Akurāts.lv ir viens no lielākajiem un populārākajiem telšu un to aprīkojuma iznomātājiem Baltijas valstīs, kas saviem klientiem par īpaši izdevīgām cenām piedāvā dažāda veida galdus, krēslus, lampas u.c., lai klienta plānotais pasākums būtu izdevies godam.