Tehniskie parametri

Diametrs
1,83m un 1.53m
Augstums
0,76m
Rāmis
tumši pelēks metāla saliekams rāmis
Virsma
koka
Montāža:
Apaļie banketu galdi ir lieliski piemēroti jebkura veida banketam, jo to vienkāršais dizains iederēsies dažādos interjeros.
Akurāts piedāvā apaļo banketu galdu nomu, piegādi un montāžu, sniedzot iespēju sarīkot banketu arī telpās, kur trūkst aprīkojuma tā organizēšanai. Tas nozīmē, ka ātri un vienkārši ir iespējams dabūt visu nepieciešamo aprīkojumu banketiem.
Apaļo banketu galdu noma ir viens no daudzajiem Akurāts pakalpojumiem, ko uzņēmums piedāvā saviem klientiem. Tas patiešām ir vienkāršs veids kā noorganizēt banketu ar atbilstošu aprīkojumu – visi nepieciešamie galdi būs vienāda izmēra un izskata un tie pat nav jāiegādājas. Izvēloties apaļo banketu galdu noma, jūs maksāsiet tikai par laiku, uz kuru galdi jums ir nepieciešami. Tas ir īpaši izdevīgi gadījumos, kad plānots ļoti liels bankets un telpās galdu nepietiek vai tie nav vienādas krāsas un izmēra un tāpēc neizskatās pietiekami labi.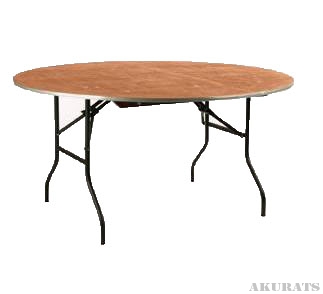 Apaļo banketa galdu izmēri
Akurāts piedāvā divu izmēru apaļos banketu galdus – ar 1,83 metrus un 1,53 metrus lielu diametru.
Tie ir 76 centimetrus augsti galdi ar apaļu gaišas krāsas koka virsmu un tumši pelēku saliekamu metāla rāmi.
To vienkāršais, neuzkrītošais, un patīkamais dizains lieliski iederēsies jebkurā interjerā.
Akurāts piedāvātā banketu galdu noma patiešām ir ērta un vienkārša. Viss, kas jādara, lai noīrētu apaļos banketu galdus uz noteiktu laiku, ir jāsazinās ar uzņēmuma darbiniekiem pa tālruni 26338888 vai e-pastu info@akurats.lv un uzņēmuma darbinieki palīdzēs izvēlēties atbilstošāko galdu izmēru un skaitu.
Jāpiebilst, ka uzņēmums Akurāts ne tikai iznomā apaļos banketu galdus, bet arī veic to piegādi un montāžu, patiešām atvieglojot banketa rīkošanu, jo, uzticot rūpes speciālistiem pasākuma aprīkojuma ziņā, atliek vairāk laika, ko veltīt citiem ar pasākuma organizēšanu saistītiem jautājumiem.
Papildus apaļo banketu galdu nomai, montāžai un piegādei, Akurāts piedāvā arī banketu krēslu nomu. Šie divi pasākuma aprīkojuma elementi lieliski papildina viens otru. Banketa krēsli ir melni, mīksti un ērti krēsli ar gaiši pelēku metāla rāmi. Banketu krēslu montāžu, tāpat kā apaļo banketu galdu piegādi un montāžu, veic, uzņēmuma darbinieki.